Jersey's Lieutenant Governor praises troops' bravery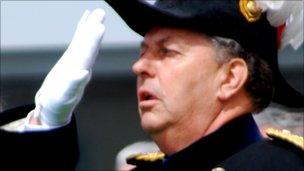 Jersey's Lieutenant Governor, Lieutenant General Andrew Ridgway, is marking his fifth and final Christmas in Jersey.
His term as the Queen's representative comes to an end in the summer of 2011.
In his Christmas message, he praised the bravery of troops serving in conflicts around the world.
He said Islanders should remember those who were not able to be with their families at Christmas.
Mr Ridgway said: "Perhaps we should offer a word of thanks to those in our community who will not be able to be with their families this Christmas.
"Because they are members of the emergency services in the island, those at the prison, hospitals and care homes and elsewhere where their skills are needed even on Christmas Day.
"These thoughts are also due to those members of the Jersey field squadron serving at this time in Afghanistan.
"And indeed to all members of our armed forces who have left their families behind and serve in difficult and dangerous parts of the world so that future generations of children might live in peace."
Jersey's Bailiff, Michael Birt, paid tribute to the work and contribution of Mr Ridgway.
Mr Birt used part of his annual festive message to thank the outgoing Governor.
Related Internet Links
The BBC is not responsible for the content of external sites.