Archaeologists unearth Georgian garden in St Helier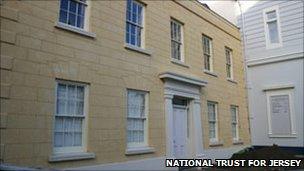 Archaeologists have uncovered a Georgian garden in Jersey.
The find was made by a team from the Societe Jersiaise working at the National Trust property in St Helier.
The National Trust for Jersey has recently been renovating the property at 16 New Street.
The discovery has delighted historians who have been trying to find the details of the original front garden, which dates back to 1800.
Societe Jersiaise said the layout of the original garden has been found, along with pottery dating back to the same period.
But spokesman John Clark said if the National Trust was to rebuild the garden, it would only be able to do part of it, as an adjacent road had swallowed up part of the original garden.
The Georgian town house was purchased in 2003 for £1 and the trust has so far spent more than £1m restoring it.
Related Internet Links
The BBC is not responsible for the content of external sites.