Tyre tunnel home being built for Durrell bats in Jersey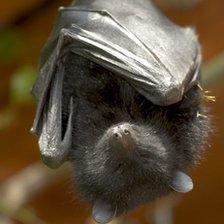 Fruit bats from Jersey are half-way towards getting a new home, the island's zoo says.
A new tunnel is being built for them to live in at the Durrell Wildlife Conservation Trust using about 800 locally-sourced used tyres.
About 400 staff from HSBC are involved in the work and have finished the first stage of the project, the trust said.
Deputy head of mammals Dominic Wormell said the new habitat would be more energy-efficient when completed.
The project - expected to take four weeks - involves upgrading the current tunnel that houses the Livingstone's fruit bat.
The tyres are being be filled with earth and used to create the exterior wall of the new tunnel, the trust said.
The tunnel would provide the perfect environmental conditions for the tropical Livingstone's fruit bat, it added.
There are believed to be only about 1,100 Livingstone's fruit bats left in the wild.
The Durrell Trust has had the bats since 1992, and has been involved in international captive breeding programmes.
Related Internet Links
The BBC is not responsible for the content of external sites.