A 'difficult and challenging' 2010 for Jersey Dairy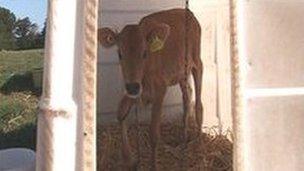 Extreme weather and a change of premises for Jersey Dairy meant 2010 was a "difficult and challenging" year.
Chairman Andrew Le Gallais said a drought in early summer led to a lack of grass for grazing cows.
Jersey Dairy also moved from its headquarters at Five Oaks to a new dairy in Trinity in May.
Mr Gallais is expecting an exciting year ahead with the first Jersey cows born from imported semen due to give birth to their first calves in 2011.
Restrictions on importing American bull semen were partly relaxed in 2008 ending a complete ban that had been in place for more than 200 years.
The first cows from the imported semen are now of breeding age and it is hoped their first calves will be born at the end of summer or beginning of autumn in 2011.
The cows, which are two years old, will also be milked for the first time.
"This will be an interesting time", said Mr Le Gallais, "seeing just how much they will improve compared to our local stock".
Related Internet Links
The BBC is not responsible for the content of external sites.