Jersey's landmark white house is painted green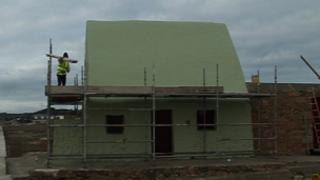 A landmark white cottage in Jersey has been painted green to draw attention to environmental issues.
Le Don Hilton, known as the white house, is an old guard house at the centre of St Ouen's Bay.
Its owner, the National Trust for Jersey, has painted it green to mark the charity's new environmental campaign and its 75th anniversary.
A trust spokesman said the cottage would remain green for a year and said Jersey knew to change with the times.
Mike Stentiford, president of the trust, said the charity had launched a green house project, which includes 12 pledges to care for the environment.
The pledges include planting a community orchard, saving water in the trust's properties and using local building products.
Mr Stentiford said: "Throughout the past 75 years, the National Trust and the island itself have seen the need to change with the times and such changes are likely to become ever more frequent and ever more challenging.
"Facing up to these challenges is at the very core of our green house project, a simple initiative aimed at sustaining our life-styles while while helping to ease the steady increase in out personal financial burdens."