Trust criticised for Jersey white house's green paint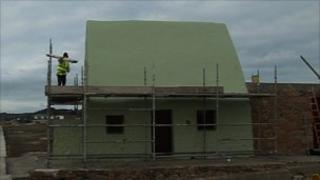 The owners of Jersey's "white house" have responded to criticism of its new exterior colour - green.
The landmark cottage, officially called Le Don Hilton, was painted for the National Trust for Jersey, to draw attention to green issues.
Jersey politician, Deputy Collin Egre, said the trust had "defaced an icon".
Charles Alluto, from the trust, said the colour was designed to make people think about how green their homes are and had sparked debate.
The move, for one year, was timed to coincide with the trust's 75th anniversary and the launch of its green house project, which includes 12 pledges to care for the environment.
Mr Alluto said he hoped once the arguments about the paint had calmed down, the discussion would move onto green matters, such as energy saving and waste management.
Deputy Egre told BBC News: "I have always known it as the white house, my parents have known it as the white house, my grandparents knew it as the white house and my great-grandparents knew it as the white house - it is the white house.
"It is an iconic building in St Ouen's Bay, it's been photographed by people, it's been painted by people.
"What on earth have the National Trust done?"