Former Jersey Odeon building 'must stay listed'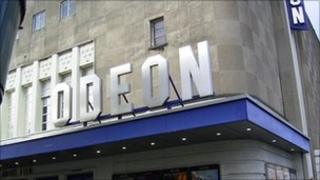 A report on behalf of Jersey Heritage has stated that the former Odeon building in St Helier must keep its listed status.
The site's owner, Le Masurier, plans to demolish the former cinema to build homes and offices.
The report, by heritage consultant Mark Price, declared the 1950s cinema has significant architectural interest.
A States debate on the de-listing of the building is due to be held by in February.
The cinema was built in 1952, the first to be built in the British Isles post war, and was closed by the Odeon in 2004 when a new complex opened on the Waterfront.
In his report, Mr Price said the building has architectural, cultural and historic interest.
He said: "Cinema buildings define the history and culture of 20th Century society, and the Odeon is a unique surviving example."
He said he felt the building must remain listed, under the Site of Special Interest classification.
A £40m development of an area encompassing the cinema has been submitted to planners by Le Masurier.
It has been designed to compliment the planned North of Town masterplan.