Holiday taken to gather Ormers in Jersey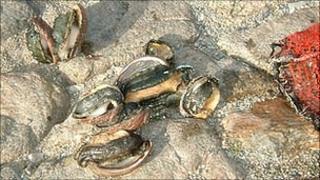 People in Jersey have planned holidays in order to gather a local delicacy, the head of the island's Fisheries and Marine Resources has said.
In order to protect stocks, Ormers can only be gathered at low tides at certain times of the year.
The States said numbers are rising after being hit by disease in 1999.
Head of fisheries Simon Bossy told BBC Jersey that the Spring tide on 20 January is the time when many people will try to catch the mollusc.
Legislation states that fishing for ormers may only take place from 1 October to 30 April on the first day of each full moon and the 3 following days.
Mr Bossy said: "There's a lot of people still going down for what they say in Jersey is a feed of Ormers, to get enough to cook up and when the weather is good.
"Later on in the Spring around Easter, if Easter is early, you get a good few people go down - we've counted hundreds that go down the beach after a few Ormers.
"People will take days of leave to go off on the tides when they see the new tide tables."