Jersey police chief wants to reform the force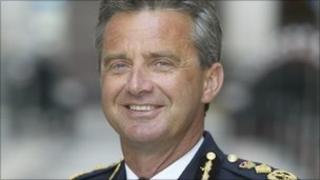 Jersey's new chief of police has said he will make his mark by reforming the States of Jersey police and inspiring the public.
Mike Bowron said he could do this with the right leadership and more than 30 years' experience.
Mr Bowron said he could make individuals within the States force more confident in their work.
He said when it came to restoring people's faith in the police, it was all down to communication.
Mr Bowron said: "Media helps shape the public's reception of crime and so media relations are important.
"Half the battle of policing is about communication. We need to know what troubles [people], and if it troubles them it troubles me."
Mr Bowron was previously the commissioner for the City of London Police.
He launched the National Fraud Intelligence Bureau and is the Association of Chief Police Officers lead on economic crime and business continuity.