Former Jersey senator Mike Vibert dies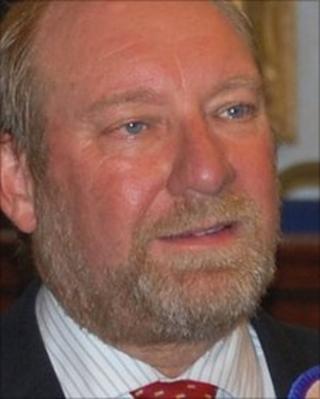 Former Jersey politician Mike Vibert, 60, has died after suffering a heart attack on Saturday afternoon.
Mr Vibert was the island's education, sport and culture minister from 2005 until 2008.
He was first elected to the States as Deputy of St Brelade number two district in 1996 and became a Senator in 2002.
He had been a teacher in London and Jersey before becoming a journalist and helping set up BBC Radio Jersey.
He worked for BBC Radio Jersey for 13 years before moving into politics.
During his time in the States of Jersey, Mr Vibert succeeded in getting free television licences for less well-off over 75s and also campaigned for free nursery education.
Enthusiastic and principled
He was described as "enthusiastic and principled" by Mike Warr, the first editor of BBC Radio Jersey.
He said: "I remember Mike as being very witty, he had a unique Jersey voice and was a dedicated worker. He was a hard worker.
"There were times when he would work on and on and on, he would smash typewriters to bits he would hit them so hard.
"When we first went over to computerisation Mike was one of the people who bashed the keyboards to pieces before anybody else."
Senator Paul Routier worked with Mr Vibert for 12 years in the States of Jersey and said he should be recognised for the good he did for children in Jersey.
"He did so much good for the island in free nursery care and fighting for education for children," he said.
'Sad time'
The assistant director of Education, Sport and Culture, Derek de la Haye, said it was a very sad time.
"I was fortunate with Mike to go out to Australia to the Commonwealth Games in 2006 and we spent two weeks together having a wonderful time supporting the Jersey team," he said.
"Obviously we are devastated by the news in the sport division and also the education sport and culture department.
"On behalf of the officers I pass on my deep condolences to his wife and family at this very very sad time."