Child care 50% higher in Jersey than in England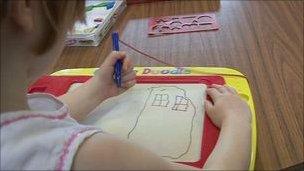 Early years child care costs about 50% more in Jersey than it does in England, according to the Jersey Child Care Trust.
The UK's Daycare Trust's annual survey examined the cost of child minders, nurseries and after-school clubs.
Parents in England pay around £5,000 a year for 25 hours a week of nursery care for a child under the age of two.
Fiona Vacher, from the Jersey Child Care Trust, said the same care in the island costs about £7,500.
She said this reflected the qualifications and standards workers had to meet.
She said the trust advises parents to speak to them in the first instance, particularly if they are concerned about being able to afford child care.
"There is income support available from Social Security for people on low incomes, and tax credits in the form of child care tax relief for parents on a middle income, and sometimes talking to parents about those choices can help," Mrs Vacher said.
Related Internet Links
The BBC is not responsible for the content of external sites.