Jersey political campaigner Emille Collins dies at 98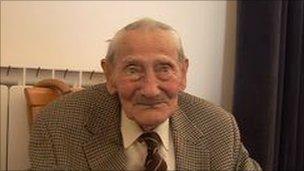 Well-known Jersey political campaigner Emille Collins has died at the age of 98.
The long-time activist had become one of the best-known BBC Radio Jersey listeners for his regular involvement in its phone-in.
He was born in St Helier in September 1912 and had lived in the parish ever since.
Mr Collins was an active member of political movements in Jersey for more than 60 years.
Last year a bronze sculpture of him was commissioned by his supporters to mark his 98th birthday.
He was born in a house behind the Old England pub and lived through the Nazi occupation of Jersey.
He trained as a carpenter after finishing school and remained in the same business until retirement in 1977. He was a member of the local branch of the T&GW Union for woodworkers.
He first joined a political party in 1944 - the Jersey Democratic Union - where a few people would meet at a house in Stopford Road, St Helier, at a time when political activity was punishable by death.
He had a lively interest in political issues right up until his death and was 'member number 1' of the Jersey Democratic Alliance and was a regular caller to the BBC Radio Jersey phone-in.
A Jersey blogging group, known as Team Voice, commissioned the bronze bust of Mr Collins last year to celebrate his life.
A small reception was held last September at the Town Hall where Constable Simon Crowcroft and guests celebrated his life and unveiled the bust.
Related Internet Links
The BBC is not responsible for the content of external sites.