RNLI to run Jersey's lifeguard service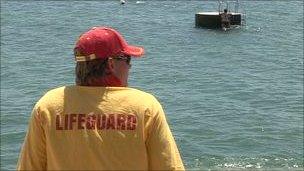 The Royal National Lifeboat Institution (RNLI) will be in charge of Jersey's lifeguards from this summer.
The RNLI will replace the existing service by lifeguards who have provided help for swimmers for the past 50 years.
But existing staff are expected to keep their jobs with the new organisation.
Peter Dawes, RNLI head of lifeguards, said: "We look forward to welcoming back lifeguards who have worked for the service previously.
"And we are delighted that a number of them have indicated that they would like to return with the RNLI.
But Mr Dawes said they would like to hear from "potential new team members including local swimmers and surfers who may want to train to become lifeguards in the future".
Senator Alan Maclean, the minister responsible, said the change in service, which is to be a partnership between the States and the RNLI, would save taxpayers about £100,000 a year.
Related Internet Links
The BBC is not responsible for the content of external sites.