Jersey's Health department want 'home-grown' nurses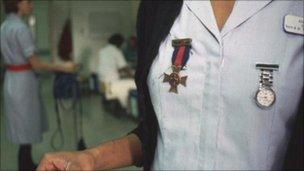 Students who want to train as nurses in Jersey are invited to open evenings next week as part of a drive to get more "home-grown" health carers.
The four-year training allows students to train as nurses without having to leave Jersey to go to the UK.
There are two open evenings on Monday 14 February and Tuesday 15 February between 1800 and 2000 GMT in the Education Centre at Peter Crill House.
It is a pre-registration adult nursing programme, which began in 2009.
The training programme has been run as a partnership between the Health and Social Services department, Education Sport and Culture, Careers Jersey and the Open University in the South.
Tuition fees are paid for the course, which begins in September, and students can work as health care assistants by registering with Jersey's nursing bank so they can earn while the learn.
Students who successfully complete the course are awarded a Diploma in Higher Education in Adult Nursing, and can then apply for entry to the Nursing and Midwifery Council register.
Leaflets about the training programme have been sent to schools in Jersey to give students an idea of the opportunity on offer.
Related Internet Links
The BBC is not responsible for the content of external sites.