Concern over rise in accidental fires at home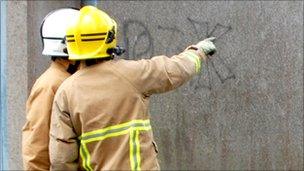 Jersey's Fire and Rescue Service recorded a 27% increase in the number of accidental fires in homes in 2010 compared to the previous year.
Richard Liron, station manager, said the increase was generating concern.
However, he said: "Despite this inexplicable and worrying rise, there has been a 42% decrease in those injured by fire in the home."
He said the service had carried out more than 250 home fire safety checks and issued over 300 free smoke alarms.
It has also held numerous fire awareness lectures to clubs, schools, meeting groups and associations.
Mr Liron said it was important to have a smoke alarm and to have an escape route if there was a fire in your home.
He added: "Alcohol is a major contributory factor in instances of fire injuries so take extra care."
Related Internet Links
The BBC is not responsible for the content of external sites.