Missing Rhea bird found in St John in Jersey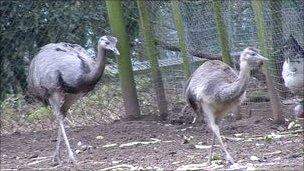 A male rhea bird that went missing from a field in St John in Jersey three weeks ago has been found.
But the bird's owner, Peter Quimby, said the bird has got a slight limp as he fell off a cliff when they were trying to catch him.
Mr Quimby said: "I'm very happy, it is coming up to the breeding season, I was missing a male and I'm glad he is back."
The birds come from South America and look a little like Ostriches.
Mr Quimby also has a female bird and two chicks.
Related Internet Links
The BBC is not responsible for the content of external sites.