Laser threat to Jersey aircraft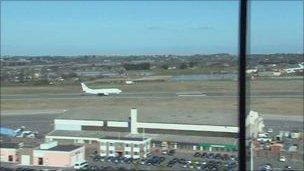 Lasers pens have been directed at low-flying planes near Jersey's airport.
States of Jersey police said it was a serious and disturbing trend that appears to be increasing.
It is an offence to endanger an aircraft and States of Jersey Police Insp Alan Williamson described it as "highly irresponsible and dangerous".
Insp Williamson said: "Those responsible should realise they are putting people's lives in danger."
Police said the lasers were being aimed at low flying aircraft, often as they come in for landing.
Insp Williamson said: "While they may look harmless, tiny but powerful hand-held laser pointers pose a threat to pilots and passengers."
The police have said they will take action against anyone using lasers to point at aircraft and anyone doing so with the intention of harming or disrupting air crew will face prosecution.
Police are asking anyone who witnessed a laser being shone at an aircraft to contact them.
Related Internet Links
The BBC is not responsible for the content of external sites.