School visits to Durrell wildlife park continue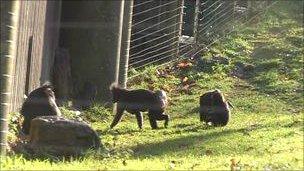 Children in Jersey will be able to continue learning about their impact on the environment around the world due to a charitable donation.
Local charity The Ana Leaf Foundation will provide money so school trips to Durrell wildlife park can continue.
This comes after the States decided to cut public money towards school visits to the wildlife trust in 2010.
The £33,000 grant, which supplemented free entry for school groups, was scrapped as part of a spending review.
Jamie Copsey, head of Durrell's International Training Centre, said primary school children would benefit from the money and visits.
He said: "We have got a schools pack we are developing for primary schools this spring which will contain a range of activities the children can do.
"It fits inside the sustainable schools framework which looks at how children's actions here on the island have reactions on a global scale."
Related Internet Links
The BBC is not responsible for the content of external sites.