Concern over cost of getting newspapers into Jersey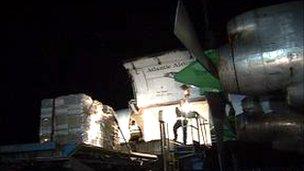 Business leaders are questioning the amount Jersey Airport charges for the newspaper plane to land early each morning.
Jersey Airport is paid about £350,000 a year to open early for the mail and newspaper plane.
But one national newspaper recently put up its price, blaming the rising costs of serving the island by air.
Ray Shead, from the Chamber of Commerce, said it was a vital service for businesses in the island.
"The sale of newspapers between seven and nine is very important for local retailers," he said.
"People come into the shops to buy a paper, buy milk, cigarettes, something to eat.
"The loss of that early morning business would be very serious for local retailers."
Business people in Jersey are paying 30p more for their copy of the Financial Times. The paper said the decision was not taken lightly.
There are concerns other newspapers may follow suit.
The National Publishers Association in the UK pays for the airport to open early.
The agreement between the States and the association is due to expire in the next few months.
The association said negotiations would begin soon and one of the possibilities was that newspapers could come to the island later each day.
Related Internet Links
The BBC is not responsible for the content of external sites.