Jersey's Zero-10 tax plan to be changed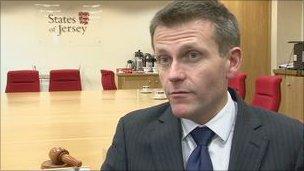 Part of a controversial business tax policy in Jersey has been abolished following pressure from the EU.
Part of the Zero-10 policy will remain but minor elements, called attribution and deemed distribution tax, will stop.
Finance minister, Senator Philip Ozouf, said the change would put the system back to the way it was when first approved by Europe in 2003.
Senator Ozouf said it was important for the island's reputation to be a good neighbour to Europe.
Senator Ozouf said: "We've been through an assessment process of Zero-10, the code group have come to the conclusion that an aspect of Zero-10 is not compliant.
"Whilst we disagree with that conclusion, as a good neighbour respecting and understanding the world has changed since we introduced Zero-10, we are prepared to make this change.
"We think that now deals with all of the issues raised by the European code group and their working party."
Geoff Cook, Chief Executive of Jersey Finance, said he was pleased with the clarity the announcement gave the industry.
He said: "We are pleased with today's decision as maintaining zero-ten provides stability and certainty for the finance industry, safeguarding Jersey's economic future and protecting its competitive position."
In 2010 an EU group looked at the Zero-10 tax systems in Jersey, Guernsey and the Isle of Man to see if they went against the EU's taxation policies.
In February the EU Council's High Level Working Party agreed with the initial assessment that the way individuals are taxed on their shares was harmful.
Zero-10 is a policy where most of the businesses based in Jersey do not have to pay corporation tax and some finance companies pay about 10%.
The system was brought in as a way of meeting European rules on the Code of Conduct on Business Taxation and to create a more equal process for local and foreign-owned companies.
The changes will come into force from the beginning of 2012.
Related Internet Links
The BBC is not responsible for the content of external sites.