Jersey Dairy could pay for school milk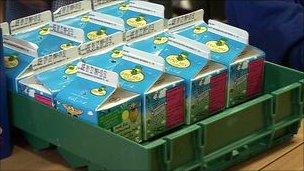 Jersey Dairy may have to pay towards the cost of school milk in the island.
The scheme was stopped by the States of Jersey as part of a wider range of money saving plans.
The Education Minister, Deputy James Reed, said dairy farmers, who get a government subsidy, could make a contribution.
He said: "It might be that the Jersey Dairy could be encouraged to look at contributing and re-introducing school milk to the schools that require it."
Christopher Journeaux, the head of marketing at Jersey Dairy, said he welcomed the return of the scheme.
He said: "We would like to see it universal... we would like to see school milk in the schools and for children to have a choice.
"We have very busy people out there, who, with a little bit of assistance from government, can ensure children are getting a vital product put in front of them."
Related Internet Links
The BBC is not responsible for the content of external sites.