Contacting your parish in Jersey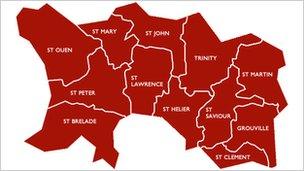 Jersey is divided into 12 parishes, each is its own administrative district headed by the Constable who also sits in the States of Jersey.
The Parish collects and annual rate payment, set by the Parish Assembly.
The Parish Assembly is a body in each parish that is made up of ratepayer and electors.
It sets the rate level for that parish, elects local officials including members of the roads committee, inspectors, vignteniers and officers.
The assembly also recommends liquor licences, adopts road names discusses matters proposed by the constable.
The parish is also responsible for refuge collection, recycling, the maintenance of some roads, issuing driving licences, giving out parking fines, dog licences, community visitors and Sunday trading hours.
Each of the 12 parishes has access to the coast, this was a historic decision based on the Perquages.
These were routes of refuge that allowed anyone who broke the law to get from their parish church to the beach to leave the island forever.
This allowed them to avoid having to face punishment by the Royal Court.
Every church had to have a safe path to the beach, called Les Perquages and as long as you walked along these paths you could not be arrested.
The parishes are: St Helier, which is also Jersey's capital, St Saviour, St Clement, Grouville, St Martin, Trinity, St John, St Lawrence, St Mary, St Brelade, St Peter and St Ouen.
Town Hall, PO Box 50, St Helier, JE4 8PA
St Helier one: Deputy Paul le Claire, Deputy Judy Martin, Deputy Trevor Pitman
St Helier two: Deputy Geoff Southern, Deputy Shona Pitman, Deputy Debbie de Sousa
St Helier three: Deputy Jackie Hilton, Deputy Mike Higgins, Deputy Andrew Green, Deputy Ben Fox
Parish Hall, St Brelade, JE3 8BS
St Brelade one: Deputy Angela Jeune
St Brelade two: Deputy Sean Power, Deputy Montfort Tadier
Parish Hall, La Grande Route de la Cote, St Clement, JE2 6FP
Deputy Ian Gorst, Deputy Anne Dupre
Parish Hall, La Rue a Don, Grouville, JE39GA
Parish Hall, La Rue de la Mare Ballam, St John, JE34EJ
Parish Hall, La Grande Route de St Laurent, St Lawrence, JE31NG
Deputy John Le Fondre, Deputy Edward Noel
Public Hall, La Rue de la Croix au Matre, St Martin, JE36HW
Parish Hall, La Rue du Pont, St Mary, JE33AS
Parish Hall, La Grande Route de St Ouen, St Ouen, JE32HY
Parish Hall, La Rue de la Fosse, St Peter, JE37AH
Parish Hall, ST Saviour's Hill, St Saviour, JE27LF
St Saviour one: Deputy Rob Duhamel, Deputy Jeremy Macon
St Saviour two: Deputy Kevin Lewis, Deputy Tracey Vallois
St Saviour three: Deputy Roy Le Herissier
Parish Hall, La Rue du Presbytere, Trinity, JE35JB
Related Internet Links
The BBC is not responsible for the content of external sites.