Dodo skeleton set to go on show in Jersey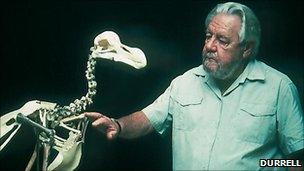 A dodo skeleton has been returned to Jersey for the first time in 21 years.
The goose-sized skeleton, dug up in the 1860s, is on loan to the Durrell Wildlife Conservation Trust from the Government of Mauritius.
It will form the centre piece of the conservation organisation's new visitor centre when it opens in April.
The skeleton represents one of only a handful of similar specimens in the world and is one of the best examples according to the trust.
The majority of the bones are original but the skeleton was carefully restored by the Royal Museum of Scotland on behalf of the Durrell Wildlife Conservation Trust about 18 years ago.
Jamie Copsey, head of the Durrell International Training Centre, said: "We are delighted to be able to once again display the skeleton of this iconic bird.
"Durrell adopted the dodo as our logo to serve as a constant reminder of why we get out of bed each morning- to bring species back from the brink of extinction."
The dodo is one of the most well known birds in the world, despite the fact that it has been extinct for several hundred years.
Durrell Wildlife Conservation Trust is an international charity working globally to save species from extinction.
Related Internet Links
The BBC is not responsible for the content of external sites.