Better access into Baptist church in Jersey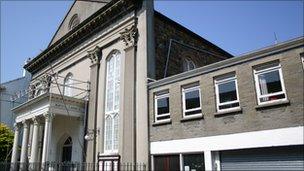 The Baptist Church in Jersey wants to be able to provide better access for visitors.
The church in Vauxhall Street in St Helier has applied for permission to alter the entrance gate.
It is also hoped they will be able to provide a ramp for wheelchairs or easier use of any walking aid.
The plans have been produced after consultation with the Historic Environment Adviser as the church is classed as a potential listed building.
Related Internet Links
The BBC is not responsible for the content of external sites.