Jersey's 2012 Olympic hockey hopeful Becky Herbert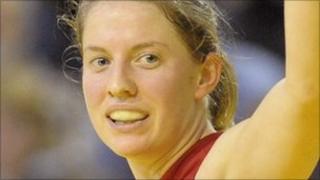 Jersey has a wealth of sporting talent playing at some of the highest levels of British sport.
In rugby Matt Banahan plays for Bath in the Premiership and has been capped for England.
Mariana Agathangelou plays badminton for England and Kevan Crowell is in the British bobsleigh team.
Another athlete, Beckie Herbert, currently plays hockey for England and is hoping for a place in the GB Olympic squad at London 2012.
She is Jersey's most successful hockey player and a regular international.
But Herbert has had more than her fair share of disappointments, including missing out on selection for the Beijing Olympics.
Because of injury she also had to sit out the 2010 Commonwealth Games and other big tournaments.
Recovered, she is now playing and training at Bisham Abbey in Buckinghamshire with the England hockey team.
She said: "It's going well, last year was pretty disappointing injury-wise, I missed a big year of tournaments.
"With the team doing so well it makes it harder being on the sidelines but everything is going fine, I'm injury-free and have been back playing for six months or so."
Herbert is currently part of the Great Britain 2012 Olympic squad, but that does not mean she will compete in the Games.
She said: "We've got about 30 players in the squad and we've got a few under-21 players being given the opportunity, staking their claim for a place in the squad.
"We've got Scottish athletes as well as English and Welsh athletes.
"Hopefully there is every chance that if I play well and do myself justice I can give myself a chance this summer.
"Then from that point onwards it is a case of pushing on towards 2012, maintaining form and fitness and then the best squad will be selected and hopefully I will be part of that."
For Herbert it is as big an opportunity as it gets.
She said: "Not a lot of people get to the Olympics and so to compete in your home one is huge.
"As a team we have got really high hopes and expectations for our performance.
"On a personal level, having missed out on Beijing, I have high hopes I can play in London."
Getting into the GB squad has involved a lot of hard work, but to get in the team for the Olympics, there is a lot more to come.
"I'm working hard in lots of areas and it is a case of controlling the controllables and hopefully that will be enough.
"There are 29 other people doing the same but we're all pushing ourselves on."