Senior jobs in Jersey 'should be approved'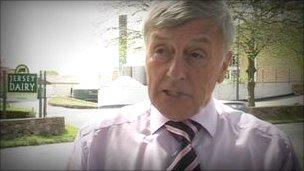 Civil service jobs with a salary of more than £100,000 should be approved by the States of Jersey, according to a St Saviour Deputy.
Deputy Roy Le Herissier has said the appointment of highly paid civil servants should be justified.
He has suggested a report should be presented to the States before employing highly-paid public workers.
He wants the report to include a summary of duties to be performed and the expected salary.
Deputy Le Herissier said the policy of very high salaries made a mockery of budget cutbacks.
"I feel very strongly because we have been drifting in this direction for a long long time," he said.
"It is pretty obvious that the council of ministers have lost all sense of proportion.
"On the one hand they are administering more and more cuts to people and on the other they are appointing more people to new positions at high salary levels.
"People are wondering what is going on, we shouldn't be pulling in two directions."
Constable John Refault, Assistant Treasury Minister, said he recognised people's concern at high salaries.
He said: "It is the role of the States employment board to ensure we get the right people at the right price.
"Sometimes that would mean we are paying people more but we have to look into this to make sure we are getting value for money."
Figures released last year showed 550 public sector employees in Jersey earned over £70,000 a year in 2009.
Related Internet Links
The BBC is not responsible for the content of external sites.