Minister praises States of Jersey secondary schools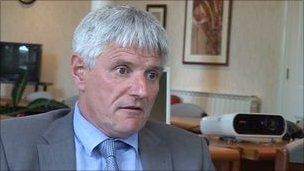 Jersey's Education Minister said the island's four States secondary schools have been "unfairly singled out by the focus on a narrow statistic".
Deputy James Reed praised the standard of teaching and dedication in the four States secondary schools.
His comments come as figures released by the education department reveal GCSE pass rates in the island are worse than almost all UK schools.
He says the education system in Jersey is unique and highly selective.
Deputy James Reed said most students in the fee-paying sector achieve at a similar, if not better, level than the fee-paying sector in the UK.
The island-wide pass rate including the fee-paying and selective schools compares well with the UK.
But take away their results and the GCSE pass-rates at the four State secondary schools fall dramatically.
Just 18% of students are leaving Grainville school in St Saviour with GCSE passes at A* to C.
Deputy Reed said the island's education system was too different to the UK's to compare them.
He said: "The four States secondary schools start with fewer academic students, due to 41% of the secondary school population being in subsidised fee-paying schools, compared to 7% in the UK.
"And at 14 years approximately 15% of students in the four 11-16 schools transfer to Hautlieu school to study for GCSEs.
"This selection process, together with the high percentage of students in the fee-paying sector, is not replicated anywhere else in the UK.
"This means the profile of pupils in the four States secondary schools is very different to the selective schools, and it is therefore inappropriate to make direct comparisons on a like-for-like basis."
Related Internet Links
The BBC is not responsible for the content of external sites.