States to discuss abuse inquiry and reform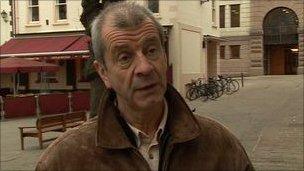 Jersey politicians will debate whether there should be an inquiry into unresolved issues surrounding historical child abuse in Jersey.
Earlier this month the Council of Ministers presented a report into the issue and said there would be no committee of inquiry.
But Senator Francis Le Gresley disagrees and has brought a proposition asking them to reconsider.
They will debate the issue during the States sitting on Tuesday.
Jersey's Chief Minister, Senator Terry Le Sueur, said following the conclusion of the police investigation, the Council of Ministers did not think an official inquiry would be appropriate.
The senator said it was questionable whether an inquiry would find out what had happened 50 or so years ago.
Senator Le Gresley said that States members should be given the opportunity to decide whether a committee of inquiry was necessary.
In the proposition he said: "I believe that it is right and proper that a debate should take place in the Chamber on such an important issue, which has dominated the news headlines in Jersey for the last three years.
"The outcome of the vote on this proposition will give the Council of Ministers either a clear endorsement of their decision not to set up a Committee of Inquiry or a strong indication that their decision needs to be reconsidered."
Members will also debate whether an independent electoral commission should be set up in the island.
The proposition, lodged by Deputy Daniel Wimberley, calls for a commission to investigate and report on all aspects of the composition of the States Assembly and election process.
On electoral reform, Deputy Shona Pitman wants the States to decide whether there should be a referendum held on the same day as the 2011 election in October.
The referendum would call for changes similar to those suggested by Sir Cecil Clothier in his Machinery of Government in Jersey report from December 2000.
These include the Bailiff no longer being the president of the States and the abolition of the office of Senator.
It would also see Constables no longer sitting in the States and all members elected under the title Member of the States of Jersey (MSJ) with a four-year term of office.
It also calls for between 42 and 44 members and an independent electoral commission to re-assign the seats between the 12 parishes.
Members will also discuss whether commercial operators should be charged for the collection of green waste and whether the housing minister should present a report on the state of housing in Jersey every two years.
Related Internet Links
The BBC is not responsible for the content of external sites.