Jersey disaster appeal raises over £196,000 for Haiti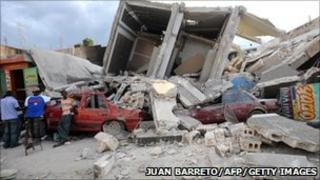 Islanders in Jersey have raised over £196,000 for the victims of the earthquake in Haiti.
The Bailiff, Michael Birt, launched the Jersey disaster appeal in January last year.
Mr Birt said he was delighted by the response of the island community.
He said the money raised will "make a real contribution to those less fortunate than ourselves who have suffered terribly following this huge natural disaster."
The funds have been given to specific projects being run by the British Red Cross, UNICEF and Rotary to support their ongoing work in Haiti.
The British Red Cross has been given £93,000 to be spread out as conditional cash grants to 3,000 households to enable them to restart income generating activities - such as petty trading, repair shops, crafts, clothes making, fishing and agriculture.
UNICEF was also given £93,000 from the Jersey Disaster Appeal.
The money will be used to build a semi-permanent school in Haiti, which forms part of a larger project to provide 200 schools during 2011.
And £10,000 is being given to Rotary towards the Jaipur Limb Project in Pignon.
It aims to provide an orthopaedic centre which will help the survivors who lost limbs in the Earthquake.
The Jersey disaster appeal fund will remain open until the 31 March 2011 for anyone who wants to make a donation.