Rwandan woman sells crafts in Jersey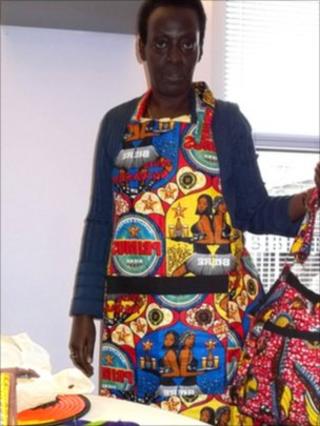 Jersey is a generous island with local people raising money and giving their time for good causes.
People sell their old books, shoes and more to raise money for causes in Africa and elsewhere and others visit countries to build schools.
Now, a woman from Rwanda has come to Jersey to sell her own craft items to people in the island.
Apollonia Kibukayire owns a business selling traditional craft items in Rwanda employing disadvantaged people.
She has been visiting her daughter who lives in Jersey and has been taking advantage of the visit.
She said: "Back at home I run an organisation which sells arts and crafts and I have a collaborative relationship with a rural women's association and they are the ones who produce these things.
"I look for markets on their behalf but because the market isn't big enough at home, when I came here I decided to look for further markets and advice from people on where to expand."
Mrs Kibukayire has been selling at car boot sales and is also looking for other people to sell the traditional craft products after she has gone home.
The products are produced in Rwanda by widows and orphans left behind after the Rwandan civil war.
She said: "This particular organisation that I work with, they come together and formed an association to produce more because they are together they can get better help."
Traditionally, in Rwandan culture, every home had an obligation to teach their daughters how to weave and Mrs Kibukayire has been helping women to exploit those skills.
"In the modern times they thought these skills could be turned to provide an income for people.
"These ladies used to make these things in the traditional method but could not make things that would appeal to modern needs.
"I identify what the market needs and contribute to the women in showing what they can do, instead of only making baskets they can make earrings and handbags.
"As they make these things my business becomes an outlet for these things."
She is hoping to find new markets to sell the products in, as there are not enough tourists and locals in Rwanda to help the business grow.
"I want to expand, look for markets out here and in other countries, these [women] are the ones who have the skills to do the things, if I have a market they will benefit from them."