Dress code for Jersey taxi drivers suggested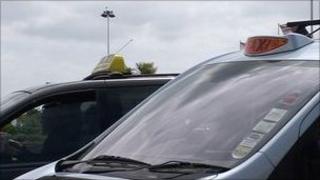 A dress code for taxi drivers in Jersey could be introduced under plans by the Chamber of Commerce.
What drivers wear became the subject of talks when the chamber and the Jersey Taxi Drivers Association met.
Gordon Forrest, from the Chamber of Commerce, said he thought some taxi drivers do not dress appropriately.
He said: "There is a minority that might turn up at a port of entry not in what one would call welcoming apparel that displays a high level of service."
The change is part of proposals to make rank taxis in the island more distinguishable from private hire vehicles.
Mr Forrest said making rank taxis all the same colour would make them easier to spot.
He said: " A lot of the public don't actually understand the difference between the rank taxis and private hire.
"One of the suggestions we made was for all the rank taxis to be in the same livery, painted the same colour.
"Then people would recognise them as rank taxis where the fares are controlled."