High salaries top Jersey States debate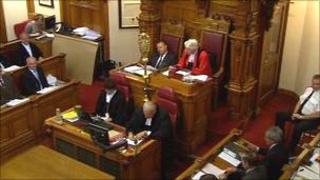 During the States of Jersey sitting on 1 March, members discussed high civil servant salaries and whether to hold an inquiry into historic child abuse.
A number of members were interested in just one issue - how much the managing director of the hospital was being paid.
Andrew McLaughlin is making £4,600 a week on a two-year contract and is meant to be the interim director, helping to appoint a more permanent one.
But politicians - who have been extremely concerned about high salaries for civil servants - were not happy with the health minister's explanation that he is a highly qualified expert brought in to save the hospital money.
Deputy Phil Rondel said the health minister, Deputy Anne Pryke, should resign over the issue.
Deputy Pryke said: "I'm not there to look back, I'm here to look forward and to make sure the structures and the right personal are in place at the right time to deliver the best possible care for islanders."
Deputy Rondel went on to ask if she would fall on her sword and Deputy Pryke responded by saying "absolutely not".
Deputy Geoff Southern demonstrated that the amount of tax corporations pay compared with what people pay has changed a lot since the year 2000.
He passed out charts showing that corporate tax went down from 52% of tax intake to just 12%, while personal tax doubled.
But the Treasury and Resources Minister, Senator Philip Ozouf, said that was the way the world had changed.
He said: "I'm afraid I am happy to take responsibility for all matters in the treasury and to the effective collection of income tax.
"But I'm afraid I can't atone for the competitive world in which we live, which caused a lot of the decline in our corporate tax revenue.
"I'm afraid I can't atone for the global turmoil which we've seen which has seen our corporate tax revenues fall but I'm optimistic we will see them rise again."
After recent criticism of Jersey's States-run schools, Education Minister, Deputy James Reed, needed to defend their performance.
He has been under attack over recent GCSE results and people suggesting students in States schools are being let down by the system.
He was quite worked up in his defence of schools, claiming comparisons with the UK were not fair.
He has often been asked in the house for a table of school results and some members said they would welcome a way of comparing them - although it is not clear yet what that new measure would look like.
'Incompetent maverick'
Finally, the committee of inquiry into historic abuse was discussed.
The original proposition, by Senator Francis Le Gresley, just asked ministers to reconsider their decision not to hold a public inquiry into abuse - but did not go into detail about what they should decide.
Deputy Bob Hill wanted to make that more detailed and added a list of questions he wanted answered, as identified in 2008.
It was a very strange debate with members of the Jersey Care Leavers Association sitting in the public gallery.
And it was a chance for some members to bring up stories from the time and allegations they did not think had been settled by the police investigation.
Deputy Daniel Wimberley read out an interview in the Daily Mail with the investigating officer, Lenny Harper.
Home Affairs Minister, Senator Ian Le Marquand, was quick to try to discredit the interview.
He said: "He [Lenny Harper] is in my opinion an incompetent maverick and not in the least a credible person to be believed by this assembly or anywhere else."
The council of ministers is supporting Senator Le Gresley's original proposition and ministers have said they were willing to give the issue more thought.
Some alternatives which ministers claim may be more effective in helping victims than holding a full committee of inquiry have been suggested.
But ministers were not in favour of Deputy Hill's amendment because they said it constrained the possibilities too much.
The debate continues.