George VI speech to Jersey found in archive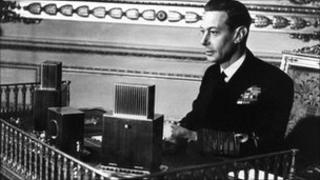 A signed copy of a speech by King George VI has been found in the Jersey archive.
The king's speeches and stammer have become well known recently through the Oscar-winning film, The King's Speech.
The archive has uncovered a signed copy of a speech he gave to the island during his visit after Liberation from Nazi occupation in June 1945.
Linda Romerill, from the archives, said she came across the item when she was looking for something else.
She said: "It is a document we catalogued at the archive probably about five or six years ago.
"At the time, because we hadn't seen the film, we thought it was a nice document and put it away."
Ms Romerill was looking for information on the 1945 royal visit to Jersey when she found the copy of the speech.
She said: "It is a short speech, only two pages long and on very good quality paper.
"It is embossed with a gilt crest of arms and is signed by George VI."
Melissa Bonn, from the Jersey branch of Christies auction house, said the item is important to the island.
She said: "I did ring up Thomas Benning who is our manuscripts specialist, who has sold Leonardo manuscripts, Gutenberg bibles and that sort of thing.
"He said these have a unique place in the history of a particular place, he said the fascinating thing is to think about the context."