Registration open for Jersey Itex walk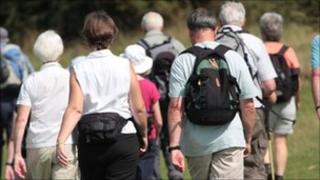 Islanders can now register for the 2011 around the island walk.
Nearly 1,300 people took on the 48.1 mile challenge last year.
The walk - which is in it's 21st year - will take place on Saturday 18 June and starts at the Elizabeth Ferry Terminal in St Helier at 0300BST.
A number of local charities are set to benefit including Age Concern, the Abbeyfield Jersey Society and Silkworth Lodge, along with another 14 local organisations.
The 2010 Around the Island Walk raised £142,656, bringing the total amount given to 118 local charities over the past 20 years to £1,559,234.
The organisers have challenged participants to raise as much money as they can to celebrate the 21st year of the event.
In addition to the full 48.1 mile walk, there is shorter walk - a quarter of the length - called the Lieutenant Governor's Challenge.