Jersey raises £14,000 for New Zealand earthquake appeal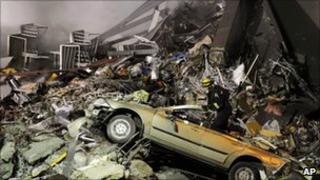 Almost £14,000 has been raised by people in Jersey for the British Red Cross Earthquake Appeal in a week.
An earthquake hit Christchurch in New Zealand on 22 February, killing 148 people and injuring around 2,500.
The Red Cross said there was widespread destruction in the country.
The Chairman of the Jersey British Red Cross Committee said: "Donations continue to arrive but there will be a huge requirement for funds as the level of devastation is fully understood."
Andrew Baudains said: "The Red Cross and the Salvation Army are the only two organisations that have been commissioned by the Christchurch City Council to check on and assess the welfare needs of the people in the surrounding areas of the earthquake."
"Specially-trained Red Cross volunteers have been helping the international search and rescue teams scour the rubble," he said.
And Mr Baudains said: " Red Cross volunteers are also looking after 500 people in two welfare centres and registering on a database the details of people affected by the earthquake, enabling relatives and friends to find out that they are alive."