Hotel guests pay to feed otters at Durrell for a year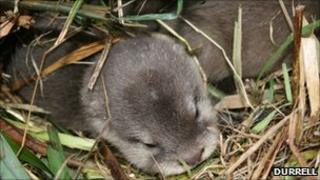 Guests at a Jersey hotel who paid £1 extra on their room bill raised enough to feed a family of otters for a year.
The Grand Hotel collected £1,818 from the end of October 2010 to the end of January 2011.
The money raised will feed Durrell's growing family of Asian short-clawed otters for one year.
The otter pups are one of the most recent additions to Durrell and it is hoped they will be coming out of their hide over the next few weeks.
They were born to proud parents Bintang and Bulan.
The optional £1 pledge is added to guests' final hotel bill and is donated directly to Durrell.
The organisers hope to raise up to £10,000 in a year for the Durrell Wildlife Conservation Trust in Trinity.
Paul Masterton, chief executive of the Durrell Wildlife Conservation Trust, said: "If it were not for the generous support of local businesses and their clients, we would not be able to carry out all of the fantastic work that we do."
Jane Scott, director of revenue and marketing at the Grand Jersey, said: "We are delighted to have raised such a large amount for Durrell during what is traditionally the quietest quarter for the tourism industry."