Jersey politicians spend a day talking about themselves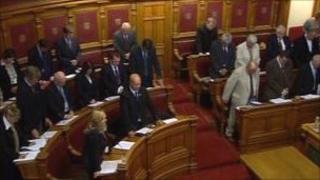 Jersey politicians were given some advice on Thursday - it is better to keep quiet and be thought a fool than to speak and remove all doubt.
And would you believe, they took it? They decided to limit speech times in the future, but it will need to be brought back to the Chamber with more details on possible length of speeches.
Members on both sides of the house expressed frustration with long debates, although Constable Len Norman said they did have their upsides.
He said: "I actually welcome this proposition and will be supporting it.
"I support it not because of what has occurred in the chamber in the past, but what could happen in the future if some restriction is not placed.
"In fact I welcome some of the longer speeches we've enjoyed. It gives some members time to go for a hair cut or visit the dentist without missing anything significant."
But others, such as Deputy Geoff Southern thought limiting speeches was a way of dumbing down politics and limiting democracy.
"If we take this route of limiting our democratic freedoms then we imperil our fundamental basis of our democracy," he said.
After two hours debating, even the Deputy Bailiff, William Bailhache, felt members were going around in circles.
"Can I just say to members that standing order 104-2a says a member of the States must not unduly repeat his or her own arguments or arguments of others.
"We've been debating this point for two hours and I don't think there have been any new points made, for myself, in the last one hour."
The proposition was passed but very narrowly, with 23 in favour, 22 against and one abstaining.
It will now have to come back to the States in a more formal form for approval.
Issues of reform
Issues of reform continued as members debated Deputy Shona Pitman's suggestion that a referendum should be held on issues such as getting rid of the bailiff, constables and senators, and reducing the number of members.
Deputy Roy Le Herrissier was one of those getting frustrated with hearing the same arguments again.
He said: "I was going to propose an additional question - if you agree to agree to all of the above - would you accept that the States will not have another debate on electoral reform for the next 20 years?
"I think the relief and the joy amongst the population would be something to behold."
Finally, members had a third chance since Autumn 2010 to keep the number of senators at 12.
Despite having voted in January to keep the reduced number of eight, Deputy Carolyn Labey brought a proposition to lobby the Privy Council in the UK to ignore the legislation that would be coming to them to cut the number of Senators.
But members like Deputy Judy Martin were slightly snowed under by the sheer number of reform debates.
She said: "Just because I'm told we're going to have the constables elected all on one day, suddenly somebody is going to stand against them.
"It is not done in Jersey and it is not seen to be done.
"Why should I have any faith? It says the electorate also doesn't have any faith in where they post their vote."
Deputy Martin was about to make a second point but could not work out which debate she was speaking in.
"I'll leave that for - which debate is it now? Is it the electoral commission or lets go to the Privy Council and tell them all we've gone nuts?
"I can't remember which one."
The debate went late into the night, ending after 2000 GMT when Deputy Labey's proposition was lost with 23 in favour, 25 against.