Islanders choose art for the new Millennium Town park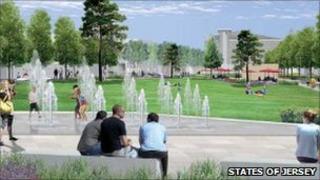 Islanders are being invited to choose the artwork for Jersey's Millennium Town park.
The Transport and Technical Services department (TTS) said it had a good response from artists and is now asking the public to help choose the best.
In December TTS asked local artists to provide ideas for art in the park.
The art will be available for public viewing in the window of BHS in King Street from 1000GMT on Saturday 5 March to Friday 11 March.
There is a two hour workshop to explain the aim of the art on Saturday 12 March which people need to pre-register for by calling TTS on 448690.
Constable Mike Jackson, the Minister for TTS said: "The new Millennium Town Park will very much be a community park and the community has already been very much involved in decisions about what the park should look like.
"Therefore it is fitting that they should also decide what art they want to see there."