Edinburgh Zoo names black stork after Jersey vet Max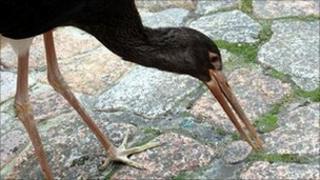 A rare black stork found injured in Jersey has been named after the local vet that saved its life.
The young stork, found with a broken wing in Mourier Valley last August, was thought to have been migrating when he was injured in strong winds.
Durrell Wildlife Conservation Trust Wildlife cared for him until February when he was sent to Edinburgh Zoo.
The zoo has named the stork Max after vet Max Allen who put the bird's wing in a splint when he was first rescued.
Max has also being given a new enclosure at the Scottish zoo.
Colin Oulton, bird team leader, said the extent of wing damage means Max cannot currently be released into the wild.
"Our stork has become a bit of a celebrity in Jersey since he was first found injured and rescued back in August last year," he said.
"He was actually the first black stork seen in Jersey since the mid 1990s.
"Although the original plan was for the bird to stay in Jersey for only a couple of months until he was strong enough to finish its migration, the severity of his injury made his re-release into the wild unsuitable.
"He still has the ability to glide, but is unable to fly at any great height and is probably not strong enough to survive the rigours of migration."
Mr Oulton said Max had been settling well at Edinburgh Zoo and "regularly enjoying snacks of mice and insects and wading round in a pond in his enclosure".