Jersey crash leaves four in a critical condition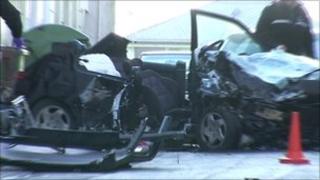 Four people including two children have been flown to Southampton with critical injuries after a crash in Jersey.
Eight people were injured in the three-car crash outside the post office in Trinity at about 1215 GMT on Sunday.
A five-year-old girl, a seven-year-old boy, a 32-year-old woman and a 34-year-old man are at Southampton Hospital.
An 18-month-old girl, a 30-year-old woman, a 64-year-old woman and a 63-year-old man are at Jersey Hospital with less serious injuries.