Jersey Census forms distributed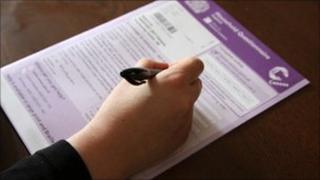 The first 2011 Census forms have begun arriving in homes in Jersey.
The forms are not being delivered by post, but are being distributed by 166 enumerators from this weekend.
The specially employed staff would be able to answer any questions about how to fill the questionnaire in, the States said.
The compulsory form has to be completed on 27 March and returned to the State's Statistics Unit in a pre-paid envelope as soon as possible.
The enumerators would also be able to tell people how to get further assistance if they had sight, language or literacy difficulties, the States said.
Staff will wear photo ID badges but people have been urged to check these if they are concerned.
The Census 2011 is the first in 10 years in Jersey. They were previously carried out every five years.