Offenders help bats in Grouville by planting hedges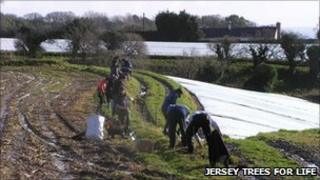 Offenders sentenced to community service have been helping the Jersey Trees for Life project with a hedgerow campaign.
The local charity has been re-stocking Jersey hedgerows by planting over 3,300 tree and hedge whips - which are cuttings about 40-60cms high - in an area in Grouville.
This will amount to nearly 1.5 miles of new hedgerows in the island.
Offenders on the Probation Community Service scheme have been helping with the planting.
The new hedgerows were being planted to help the local bat population by protecting, maintaining and enhancing their insect-rich habitats.
The area in Grouville contains all five of the species that exist in Jersey, including the commonly found pipertrel and the much rarer long-eared bat.
The field boundaries were surveyed with the landowners and they agreed to the areas where hedges would be planted - which are in Grouville near Le Catillon and Les Pres Manor.
Conrad Evans, the arboricultural officer at Jersey Trees for Life, said: "The community service work parties of six offenders and a supervisor makes a great difference to our two staff who carry out the planting.
"Over 250 holes were being dug per session which allowed us to get the requisite number of whips planted by the end of the planting season."
Mr Evans said: "We are also grateful for the loan of spades and other hand tools when corporate and other groups come and help plant and maintain various elements of our hedgerow campaign."
Brian Heath, chief probation officer, said: "Community service allows people who have committed offences a way of making restitution for the offences they have committed; it is more than simply a punishment in the community.
"The supervisors explain the importance of the partnership with Jersey Trees for Life and of this particular project and as a result the workers see the value of the work they are doing. Recent feedback from people finishing their orders showed that 80% were pleased to have performed work that benefited their community."
Jersey Trees for Life also planted 1.67 miles of new hedgerow in St John for the squirrel population before Christmas. It received financial help from a number of commercial and private donors to pay for the hedgerow project.