Jersey meeting to decide town park barrier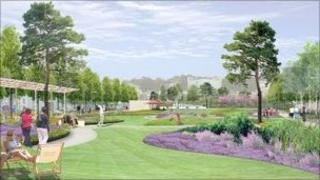 A meeting will take place to decide whether a barrier should be set up around the new town park.
Planning Minister Senator Freddie Cohen said he "stirred up a hornet's nest" after allowing railings to be put around the park.
St Helier Deputy Jacqui Hilton has written to the Minister expressing her opposition to the plan.
The plan would see iron railings but Deputy Hilton said that the police recommended hedging or a low wall.
Senator Freddie Cohen included a temporary permit to put up railings on the north and south sides of the park when the planning application was passed.
He said that would prevent children running into the road and being injured.
Senator Cohen said there were people on both sides of the railings argument.
He said: "The police submitted a report to the planning department in which they raised an issue ensuring the park was properly protected.
"I temporarily conditioned the consent to establish railings on the north and south of the park, not on the west or east.
"Since that time a group has established in support of railing the whole of the park.
"But there is also another group who don't want railings at all."
The Constable of St Helier, Simon Crowcroft, and the parish deputies have called a meeting to try to resolve the issue.
Senator Cohen said the goal was to find a way of protecting children as well as putting together what the majority of residents want.
Unfortunately, he said that "at the moment I don't know what the majority of the residents want".