Jersey band Brave Yesterday to play Glastonbury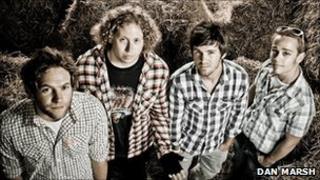 A band from Jersey will be one of the opening acts at this summer's Glastonbury music festival.
Brave Yesterday were chosen as the opening act on the John Peel stage, after they were talent-spotted during their performance at Jersey Live.
They will share the stage with acts such as Ellie Goulding and Mumford and Sons at the festival.
They will be the first Jersey band to play on the John Peel stage, named after the veteran BBC Radio 1 DJ.
Lead singer and guitarist Chris Nutter said they will be "flying the Jersey flag with pride on stage."
Alex Pitt, Brave Yesterday's bass player said: "It is obviously a massive accolade for us, we never realised we would actually get this far, and you put hours and hours in of practising and gigging and to finally get something like this is a massive reward."
Guitarist Craig Farrell said: "We are going to be representing Jersey the whole time, I think anyone who looks into us afterwards or surrounding Glastonbury will see that we are from Jersey anyway if they look on my space."
"We will certainly be taking the Jersey music scene with us and try to represent that and hopefully get some interest towards Jersey at the same time."