Jersey Tourism's weather campaign wins marketing award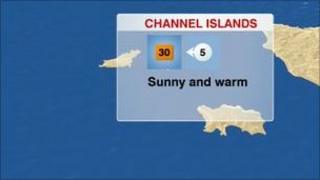 Jersey Tourism has won an award for its campaign to put the island's weather on the national TV map.
It took the Best Travel PR Campaign at an awards event in London.
Jersey Tourism believed that the island not being mentioned in national weather broadcasts was costing the island millions in lost business.
The organisation found that Jersey was given a temperature marker on a third of broadcasts and was only mentioned specifically in 5% of forecasts.
Having got the backing of a thousand residents, Jersey Tourism launched its "on the weather map" campaign in the summer of 2010.
The campaign was well received by the national media, with BBC 6 Music only featuring Jersey weather one morning.
The island's Economic Development Minister Senator Alan Maclean was there to collect the award at the Chartered Institute of Marketing Travel Marketing Awards.
Mr Maclean said: "This campaign has shown that combining the very active and vocal support of Jersey's residents with the raised voices of our tourism businesses, we have been able to make a real impact and get our message across.
"I believe that this campaign, expertly marshalled by the team at Jersey Tourism, has had a significant impact on wider perceptions of Jersey across the British Isles and that our reputation as the 'warmest place in Britain' has been enhanced by its success.
"It also demonstrates that, with some creative thinking applied to our communications, we can stand alongside some of the biggest brands in the travel industry."