Jersey Olympic festival details revealed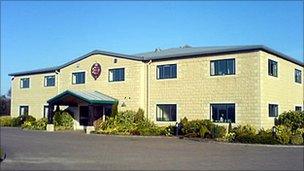 Jersey will host a cultural festival on 28 July 2012 to coincide with the London Olympics, organisers have confirmed.
The Royal Jersey Showground in Trinity is set to host the event, which could include big screens showing the action and demonstrations from sports groups.
Fort Regent or Springfield Stadium had previously been considered as potential venues.
Church leaders are being encouraged to help with the planning.
The Reverend Billy Slatter, from the More Than Gold organising group, said: "It will be a real community festival and an opportunity for people to come together and celebrate the things we enjoy doing.
"Hopefully it will inspire people to take up some new things - not just sport but art, dance and music."
Charities will be invited to showcase their work at stalls at the festival and an exhibition area is also planned.
Mr Slatter told BBC Radio Jersey: "There will also be the opportunity to draw together some competitions that will run between the beginning of the year and the summer, perhaps to have a few finals on the day.
"Despite the strip of water that separates us from the mainland, we are going to be impacted by the Olympic Games.
"There will be nothing else in the news and I think it's a chance for the Jersey community to say 'I want to be part of this' - the Olympic Games is as much about culture and community as it is about sport."
Related Internet Links
The BBC is not responsible for the content of external sites.