Jersey civil servants walking in to work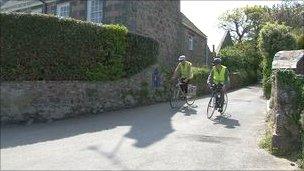 Staff working for the government in Jersey will have to alter the way they travel to work to meet new environmental targets.
All States of Jersey departments have to reduce energy and water consumption by 10% and cut the "harmful effects of travel" by 15%.
That change will include how they get to work in the morning.
New guidelines for reducing waste, recycling and buying sustainable goods have also been introduced.
Fiona Glover, from the Environment Department, said the targets were tough.
She said: "We do have a 10% target to reduce our energy and water consumption this year.
"That is a high target to hit but we are confident with everybody behind us that we can achieve that.
"We are also looking at increasing the number of people cycling and walking in line with the transport policy to reduce the number of people driving on the road."
Related Internet Links
The BBC is not responsible for the content of external sites.