Fighter jets called to help plane heading to Jersey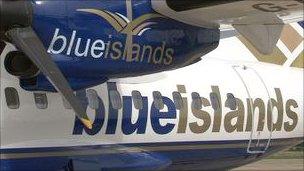 French fighter jets helped a Blue Islands flight which lost communication mid-air while heading to Jersey.
Two Mirage jets were called out when the plane with 46 passengers on board lost communication in French airspace.
The passenger plane, an ATR 42-320, was flying to Jersey from Geneva when radio contact was lost.
A spokesperson from Blue Islands said: "Five days ago on the flight from Geneva to Jersey the captain was asked to change communication channel."
He added: "During the change-over, there was a brief period where contact was lost and the French Air Force escorted the aircraft until radio contact was resumed as a precautionary measure."
Related Internet Links
The BBC is not responsible for the content of external sites.