Nettles named Jersey Opera House patron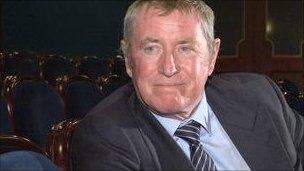 The former Bergerac and Midsomer Murders actor John Nettles has become the patron of the Friends of Jersey Opera House.
Mr Nettles said he hoped to be able to perform at the theatre in the future.
Work has begun to improve facilities at the venue and to create more performance spaces.
The Jersey Opera House was given more than £1m of money to help develop the venue and put money into the economy in Jersey.
Venue organisers hope it will encourage bigger audiences at The Opera House.
Pierre Horsfall, from the theatre, said: "If we have the theatre functioning all day with classes and workshops and the like the whole theatre will come alive.
"People will get to feel part of the Opera House scene and come to see the shows that we put on."
Mr Nettles said the Opera House was a great resource for the community.
He said: "The theatre is the expression of the community, it is a great resource for the community but also speaks of the community and about the community."
Related Internet Links
The BBC is not responsible for the content of external sites.