Jersey Police to get a new radio system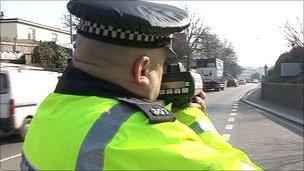 An improved public safety communications network has been launched by the States of Jersey.
The system is known as Tetra and has cost £4.5m to put together.
The States of Jersey was one of the first places in the world to use Tetra or Terrestrial Trunked Radio 10 years ago.
It is a walkie talkie system used for Jersey's emergency services and a number of other States departments and organisations.
The project has been run in partnership with the new system in Guernsey and although each island's networks are not dependent on each other, they are connected.
It means Jersey's radio coverage on the north coast is improved and has less interference from other islands.
The home affairs minister said he was delighted that the project which he said was "vital to the safety of our community" had been delivered on time and within budget.
Senator Ian Le Marquand said he was particularly pleased to have established a link with Guernsey.
He said: "I am delighted that this important project, which is vital to the safety of our community, has been delivered successfully, on time and within budget.
"It shows what can be achieved when the public and private sector work closely together.
"I am particularly pleased that we have been able to establish an operational link and improved reception as a result of working with our colleagues in Guernsey."
Related Internet Links
The BBC is not responsible for the content of external sites.